How to Use the eLibraryUSA Catalog
The eLibraryUSA Catalog contains ebooks and articles from a variety of resources. The Catalog search box includes the following features:

•  Searching multiple databases - The eLibraryUSA Catalog search box searches several databases at once
•  Facets - Ways to narrow your search results by different topics and resource types
•  eShelf - If you have an eLibraryUSA account, you can save your favorite documents and searches

Using the eLibraryUSA Catalog
Type what you want to search into the eLibraryUSA Catalog search box and click Search or press Enter on your keyboard. The eLibraryUSA Catalog will look for materials related to your search term from resources available through selected eLibraryUSA resources and a variety of free resources:

•  Academic OneFile
•  Britannica Academic
•  ebrary
•  General OneFile
•  JSTOR
•  Literature Resource Center
•  Project Gutenberg
•  ProQuest Dissertations & Theses Global
•  ProQuest Research Library
•  Wikipedia

Click on View Online to see an article in your search results.

You will be required to login with your eLibraryUSA password to access articles. You will also need to be logged in to see search results from ProQuest Dissertations & Theses Global and ProQuest Research Library.

Personalizing the eLibraryUSA Catalog
If you sign in to the eLibraryUSA Catalog from the search results page, you will see a screen that will let you personalize your search results: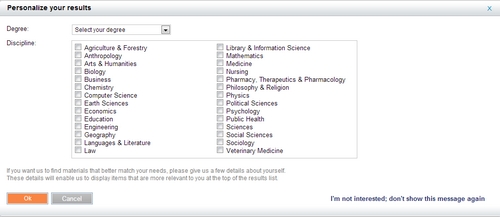 Under degree, you can pick undergraduate, graduate, researcher, or librarian. Then you can select the topics that interest you the most and to see in your search results most often. If you do not want to personlize your screen at that time, click Cancel. If you do not want to personalize your screen at any time, click "I'm not interested; don't show this message again".

If you decide later you want to change your personalization preferences, click on "My Account", then "Personal Setting". You will see a box that says "Personalize your results". Click the Edit button in that box to change your selections.

Narrowing Your Search Results
On the left side of your search results is a column called Refine My Results. You can use this column to narrow your resources using Facets:

•  Resource Type: such as newspapers, magazines, or audio/visual files
•  Publication Date
•  Language
•  Journal Title
•  Author
•  Subject
•  Collection: such as OneFile, Encyclopedia Britannica, or Document Library

For example, if you search for "english learning", you can click on the Subject "English (Second language)", the Journal Title "Creative Education", the Resource Type "Books", or the Collection "Document Library" to narrow your search results.

Saving Your Search Results
If you have an eLibraryUSA account, you can login to the eLibraryUSA Catalog search box by clicking on Sign In at the top right corner.

Once you are logged in, you can save your search results by clicking Save Query at the end of the Refine My Results column.

You can also save a specific article. First, click on Resource Information under the article you want to save. Next, click Send To. Then click Add to e-Shelf. You can also email the article information to yourself.

To find your saved searches and articles, click on the e-Shelf link at the top of the page.

What to Remember About the eLibraryUSA Catalog Search Box
To access articles and the most search results, you must be logged in with your eLibraryUSA account.

The eLibraryUSA Catalog search box does not search every single resource in eLibraryUSA. You can only search the resources listed above.

The eLibraryUSA Catalog search box works best with general search terms. If you are looking for a specific item, it's better to go straight to a specific resource.

Make use of the Refine Your Results column to help find the best results.